Growing & Building
After a challenging but successful year in 2020, we learned from our triumphs and leaned into our strengths to grow awareness around substance use disorder and connect with our audience in new and innovative ways. See how GI led the way in 2021!

2021 Rewind from our Executive Director
Healthcare Providers Trained
Indicate Satisfaction with Training
Indicate Greater Knowledge Post Training
Clinical Consultations on OUD Treatment
Addiction Medicine Podcast Downloads
Minutes Watched on YouTube

A STRONG ADDICTION MEDICINE COMMUNITY
Conferences
Demand for addiction medicine expertise continues to grow and there is increasing need for addiction specialists, as well as primary care providers with this knowledge and skill set. Our conferences provide an excellent opportunity to gain this expertise.
We quickly pivoted from in-person conferences to virtual in 2020 and have since made the most of our collective knowledge to execute two highly successful virtual conferences in 2021.
Our annual spring Addiction Medicine Conference in April focused on SUDs and their Treatment in the COVID Era: Adapting, Transitioning, Learning and attracted over 200 providers. The annual fall conference in October, Addiction Medicine Essentials, offered education on evidence-based care, models of care, fentanyl, cannabis, SUD related medical and psych complications, pain and more to over 180 participants.
Training and Technical Assistance
Besides our own conferences, we support SUD training at events sponsored by organizations such as the NC Academy of Family Physicians, NC Society of Physician Assistants, NC Association for the Treatment of Opioid Dependence, NC AHECs, Opioid Prescription Drug Abuse Advisory Committee, Pain Society of the Carolinas, and others. We also provide mentoring and technical assistance when needed.
Focus on Opioid Treatment Programs
Over 125 clinical consultations on opioid use disorder treatment
Over 40 hours of weekly clinical case-based discussion and best practices for physicians and advanced practice providers working in an OTP setting
With OTPs facing many COVID-related challenges, a monthly meeting for program directors was created to provide a platform to disseminate and discuss best practices for OTP program operations
Building the Workforce and Continuing Education
49 scholarships to students at 9 Criteria C schools
36 LCAS exam fees
1 CCS exam fee
5 NCFADS registrations
4 NASW registration
37 Addiction Medicine Conference Scholarships
5 Other Continuing Education Scholarships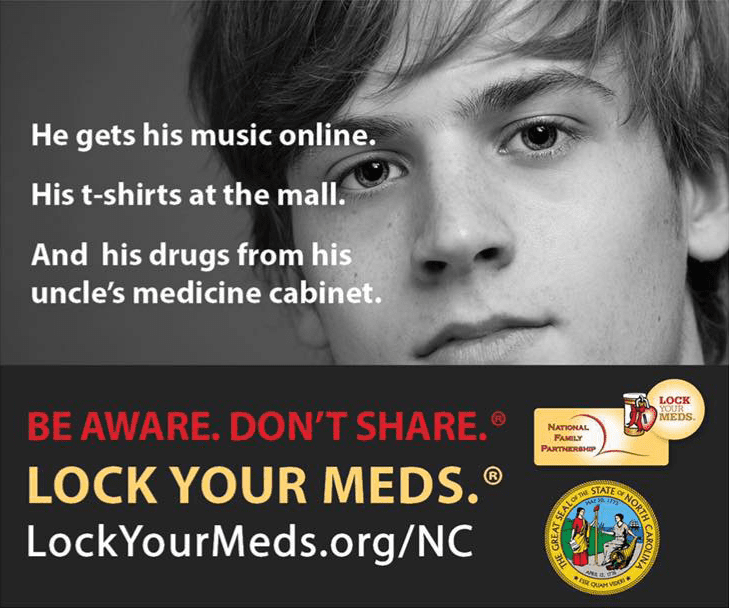 Reducing Youth Access to Tobacco
In July 2021 we started assisting with the state Synar Program and in that time had over 4,000 visits in 53 counties disseminating 51,830 merchant education materials.
Providers Clinical Support System – Universities Projects
Student-focused buprenorphine waiver training has been implemented for medical students at four medical schools in NC, including:
East Carolina Brody School of Medicine
The University of NC at Chapel Hill
Wake Forest School of Medicine
Campbell University
The project is currently being expanded with a focus on advanced practice provider students. By the end of 2022, the following three schools will have incorporated student-focused buprenorphine waiver training:
Pfeiffer University Physician Assistant Program
Winston-Salem State University Division of Nursing
East Carolina University School of Nursing
Partnership Projects
Worked with NC Association of Pharmacists (NCAP) on the development of an Advanced Pharmacy Practice Experience for student pharmacists where students will spend time conducting opioid harm reduction care for patients and programming for local communities.
Coordinated with the NCAP for implementation planning for a pharmacy-based syringe service program (SSP) extension by connecting 2 pharmacies with 2 existing SSP sites.
In partnership with the UNC School of Nursing, SUD screening is being implemented to provide safe, quality-driven, coordinated health care for individuals in rural and/or underserved areas in NC who suffer from co-morbid physical and behavioral health disorders.
Lock Your Meds Media Campaign
A centerpiece of the SPF Rx project. The grant supported the promotion of the Lock Your Meds media campaign and associated materials, within the SPF Rx counties and across the state. In addition to the SPF Rx counties' promotion of Lock Your Meds within their communities, the statewide dissemination efforts of the campaign included broadcasting PSAs via TV, radio, and social media, as well as billboards. This resulted in more than 6 million impressions. Furthermore, the statewide activities included distributing medication lock boxes and posters, rack cards, and magnets with the campaign's messages. Of these resources, the rack cards represented the farthest reach, with nearly 500,000 of these disseminated.
The Statewide Opioid Misuse and Prevention Summit
The agenda for this conference included sessions and presentations across the continuum for addressing prescription drug misuse – prevention, treatment, and recovery. The 2020 and 2021 Summits drew hundreds of stakeholders interested in and working in these areas to address prescription drug misuse, with each Summit having over 800 attendees.
VETERANS AND THEIR FAMILIES
North Carolina Governor's Working Group Meetings
We hosted 12 two-hour meetings which were live streamed on social media. These meetings consisted of our co-chair updates from agencies across the state and topic discussions on issues that affect Veterans and their families on a day to day basis.
Governor's Challenge to Reduce Veteran Suicide
SAMHSA has partnered with the United States Department of Veterans Affairs (VA) to bring the Governor's Challenges to Prevent Suicide Among Service Members, Veterans, and their Families to states and communities across the Nation. North Carolina is one of thirty-five states taking part in the challenge and are working to develop and implement state-wide suicide prevention best practices for SMVF, using a public health approach.
In North Carolina, we plan to address the issue head-on working with the cities and counties in the state to implement evidence-based practices on the local level reaching deep into the places that Veterans, service members and their families live, work, and play.
NCServes
Getting the right client to the right service right at the time they need it is the mission of the NCServes network, which now covers the entire state of North Carolina. Across the state, NCServes is actively coordinating and improving service delivery to veterans, transitioning service members.
NCServes' dedicated Care Coordinators engage one-on-one with veterans, service members, and their families to assess a client's needs and make a warm handoff to a service provider. All at zero cost to clients or providers.
This seamless and transparent coordination of services leads to a more "veteran friendly environment" and has helped North Carolina attract and retain more veterans over the past several years.
Social Determinants of Veterans Suicide Prevention
Five-part series focused on Veteran suicide and how to prevent one of the most critical issues facing Veterans today.
Veterans Support Specialist Program
The Veteran Support Specialist program works to make North Carolina the most military and veteran-friendly state in the nation. VSS offers learners comprehensive guidance and training to learn and sustain the most effective ways to serve those who have served our country. Last year, 26 new specialists were trained in North Carolina and 3 new learning modules were developed during a pivot to virtual delivery.
NC Student Transition Resource Initiative for Veteran's Education (NC STRIVE)
Held 4 hour-long video conferences focused on bridging the information gap for student Veterans and separating military members who are interested in going to a college or university in NC. Topics of the conferences, which were televised on PBS-NC, included transition, employment, wellness and whole health and education. More than 11,500 people participated in these events.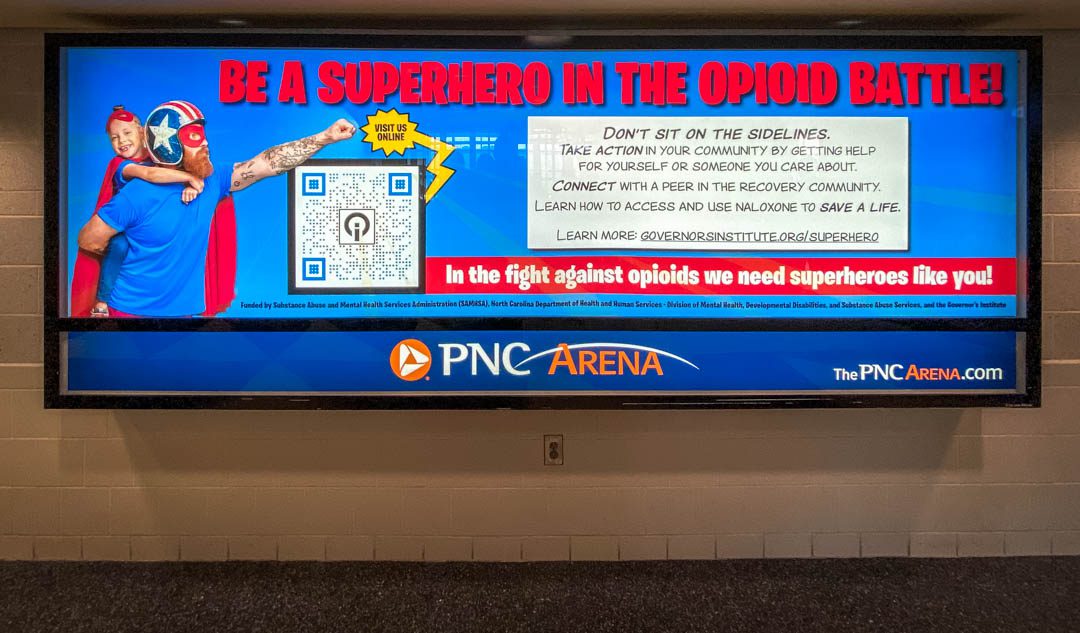 BE A SUPERHERO IN THE OPIOID BATTLE!
Began partnerships with the Carolina Hurricanes, Carolina Panthers, North Carolina Courage, North Carolina Football Club.
ADDICTION MEDICINE PODCAST
Started our podcast focusing the first season on equity as it relates to substance use disorder. Find us on Spotify, Apple Music and somewhere else.
Harm Reduction in North Carolina
We explored stigma and harm reduction in a new 40-minute documentary – Harm Reduction in North Carolina – which puts a spotlight on a wide range of HR agencies and interventions and celebrates those working in the field of harm reduction. The documentary addresses an often misunderstood but effective approach to preventing some of the harm and stigma associated with SUDs.
SUD COMMS TOGETHER
We spearhead a collaboration of communications professionals from other non-profits in the field that allows us to better coordinate and elevate each other's important work.
The Governor's Institute is using 2021's momentum to forge ahead in important and innovative ways. We are weaving DEI into all program areas, we're partnering with programs that focus on LGBTQIA+ clients and other underserved populations and we are doing the hard work needed to move from awareness to action.
We're excited to be hosting live meetings again and holding our popular Addiction Medicine Conference in person in Asheville this spring. And with exciting new additions to our staff, we are confident that 2022 will be another successful year.